Positive Air Pressure Negative Air Pressure Air Filtration System
Ducting Options - Positive - Negative Pressure Model (configuration)
Ducting Options for the Allerair air cleaner, air purifier models- positive and negative pressure applications.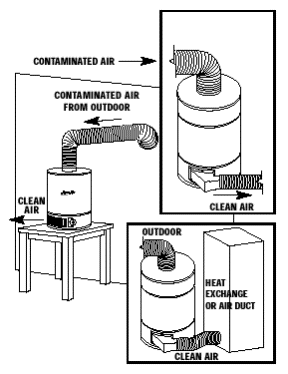 Find a solution for every situation
Positive Pressure
The positive air configuration draws in the indoor air by the top of the unit and blows clean air out by the bottom.
This system can be used to bring outdoor air through the air cleaner and create positive air pressure in the interior space.
This pressure forces the contaminated indoor air out and replaces it with cleaned outdoor air.
The positive air configuration is used in the Air Handler central air systems and may be used to feed clean air into a heat exchanger or air duct.
Negative Pressure
The negative air configuration draws the contaminated air in through the bottom of the unit and blows it out through the top.
This system can be used to move contaminated air from indoors to outdoors through the air cleaner and create negative air pressure in the indoor space.
This pressure draws outdoor air into the interior to replace the extracted contaminated air.
The air cleaner cleans the contaminated indoor air before releasing it outdoors to avoid creating outdoor pollution and to conform with environmental regulations.

4000 Series Executive model, see specifications below
Standard Feature:
Pleated True HEPA filter
12 lbs of "enhanced- Executive blend" granular activated carbon / charcoal filter + zeolite
Anti-microbial filter
Pre-filter
400 CFM Motor, 3 speed, quiet
Optional power for use inside truck cabs - see notes below


Technical characteristics
Dimensions:
17.5" (height) x 15" (diameter)
Shipping weight:
38 lbs.
Filtration system:

MAC-B Carbon, Medical-Grade HEPA, Prodense Pre-filter

Carbon filter:
12 lbs

MAC-B

, 2.5 " depth
Rated CFM:
400
Filtration inside unit:
---
Pricing:
4000 EXEC: $439.98 USD each
Flange adapter, 6" diameter flex hose: $129.98 USD each
8 Pack 4000 series Replacement Pre-filters (recommended): $59.98 USD / Pack of 8
---
Electrical rating of the air filtration system for power inverter consideration:
Voltage: 110, 60Hz
Max. Amps: 1.2A
Max Watts: 134W
How to Choose a Power Inverter for your RV or RoadTrip Vehicle -
http://www.roadtripamerica.com/dashboarding/Power-Inverters.htm
The above link gives you information when shopping for the power inverter for your trucks.