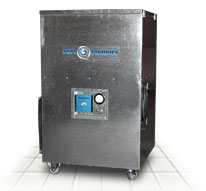 The Air Rhino is the most versatile and cost effective unit of its kind. Easily switch from heavy particle filtration to chemical, gas and odor adsorption right on site.
1000 CFM- delivered, Dual Speed, Variable Speed
True HEPA Filtration for airborne particles, mold spores, etc.
Activated Carbon / Charcoal Gas Phase Adsorbents (100 pounds) for chemical fumes, toxic gases, odor
Mold, asbestos abatement, remediation in schools, hospitals, commercial building,
Hospital contractors / renovation, construction, disaster restorator, etc.
Negative air pressure , Positive air pressure applications- comes with one flange adaptor for a 12 inch diameter flex hose.
Available in 110V and 220V
Call us toll free, 1-800-626-0664, from anywhere in North America, for help with your product selection or for help with placing your order. You may also fill out and send us the contact form on this page.
Have a wonderful day!!