Heavy-duty Air Filtration for Large, Severely Contaminated Environments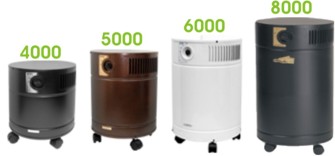 The 6000 series features a selection of heavy-duty air purifiers, ideal for large homes, businesses and industries.
With up to
36 pounds of activated carbon
, these units feature the most filtration media available
for chemical and odor adsorption
, as well as a
HEPA filtration system for airborne particles
.
Choose from our
6000 series
for severely contaminated environments, areas with continuous sources of pollution or for the most complete protection available. |
6000 series model line-up
|

Customizable Features
Activated Carbon Blend

Exec Blend
: Our Exec carbon is our general-purpose blend, ideal for trapping a wide range of airborne chemicals, gases and odors.
Vocarb Blend
: Our Vocarb carbon is our boosted blend, offering a more aggressive removal of hard-to-trap airborne chemicals, gases and odors. This blend is best suited for newly renovated environments, unknown contaminants and/or formaldehyde.
Custom Blend
: Have an unusual IAQ problem? Let us customize the perfect carbon blend solution! |
6000 series model line-up
|

Filter Depth
A unit's filter depth is key to its adsorption capacity.
Customize your unit with a 2.5" (regular), 3" (deep or "D") or 3.5" (extra deep or "DX") carbon bed filter to maximize its chemical-adsorption efficiency. |
6000 series model line-up
|
Common Features / Specifications
Voltage: 115/60Hz or 230/60Hz - 1.3A
Cord length: 8 feet
Sound level: "Low"/"High"/"Turbo", dB. (5 ft. away): 35/55/65
Maneuverability: 4 x 2" wheels
Filter access: Pre-filter bottom no tools, Main filters bottom with screws
CSA / UL certification |
6000 series model line-up
|
Optional Features

Virus, Mold & Bacteria Protection
Customize your air purifier with a
UV light to provide additional protection from viruses, mold and bacteria
.
Add a photocatalytic reactor to your UV option for the most advanced protection!

Source Capture
Prevent dangerous toxins from becoming airborne by trapping them at the source (available optional flange adapter and elbow adapter for flex hose connection- both air intake and clean air side).|
6000 series model line-up
|
6000W source capture model
|
HVAC - Air Handler - Bypass System
Adapt your air purifier to duct into your central air heating and cooling systems, to provide an ideal filtration system for your whole home. Our
HVAC - Air Handler - Bypass System
units are identified with an "AH".
Available Colors