An Allerair Air Purifiers, Air Cleaners, Air Filtration System customer and satisfied user wrote:
" In this Sandy disaster zone, the Allerair units are protecting my health and more, they are saving my life. 
This is not hyperbole, Without them running, I am victim to the fine dust and volatile debris (post world trade center type) that permeates this area from deconstructed houses and flooding aftermath. 
Outdoors it is headaches and coughing, indoors good health, comfort and peace. 
Everything that makes me ill, paint fumes, pesticide chemicals, flood petroleum residues, mold, air particulates, is removed to my comfort.
The pre-filters get dirty fast which is indicative of only part of what I would be assimilating without the Allerair air purifiers.
Most people try air purifiers from big big box stores and DIY retailers with poor results. They just don't realize the seriousness of the problem nor know they need a serious carbon based, hepa, uv device. 
Get this info into and appreciated in flood disaster areas and your 2013 sales problems are solved. 
I recommend my 4000 and 5000 models to all who have symptoms or care about their health.
Thanks for your support and concern.
Have a good new year. 
Sincerely,
Joe C."
Optimal Air Filtration for Homes & Businesses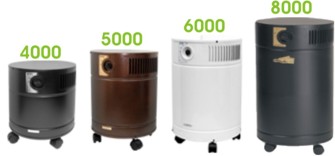 Our most popular line of air purifiers, with the most available options and the best value for maximum air cleaning. Choose from this series for the ideal indoor air quality solution for most homes and businesses.

Featuring up to 27 pounds of activated carbon for effective chemical, gas and odor adsorption, plus a HEPA filtration system to remove particles that trigger allergies and asthma. These air cleaners provide the perfect protection for average-size rooms, and come in a wide array of colors to match any décor.
Contact Us
Toll Free: 1-888-395-0330 or 1-800-626-0664 (North America- Continental USA and Canada)
Fax: 1 (419) 710-9876
Outside of North America
(Europe, South America, Asia, Australia, Middle East):
You may also fax to us your information request: 
eFax: 1 (419) 710-9876