Tobacco smoke poses a unique indoor air quality concern. Not only does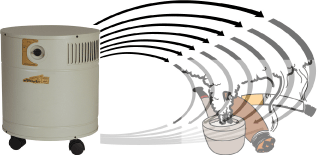 tobacco contain chemicals, odors, and smoke particles; those particles contain tar which block up conventional particle filters in air purifiers. An air purifier for tobacco smoke must be able to combat all of these concerns without having the tar quickly ruin the filters. 
The Tar-Trapping filter, a specially coated filter that removes tar before it can damage the other filters.
Nature Of Tobacco Smoke
Tobacco smoke consists of nicotine, tars, water vapor, carbon dioxide, and a substantial number of chemicals and many other irritants. Tars adhere to walls, furniture, carpets, clothing and other articles having large surfaces. After most of the vapor and smoke in the air has been removed by the impregnated carbon media, the walls and other surfaces may retain a film of liquid tar, much of which slowly evaporates back into the air.
Carbon media is the most adsorbent material known to man, and is the adsorbent of choice by the military, industry, healthcare institutions, and of environmental organizations. | Google- more on activated carbon , activated charcoal |
Allerair D/S and DX/S series with the double activated carbon media together with a matching smoke specific pre-filter (Tar pre-filter), does not hide or mask the odors, chemicals and gases as some other systems do. Allerair and Electrocorp units do not use Ozone, which itself has been labeled a pollutant. According to the American Lung Association and Health Canada, it is dangerous to one's health when you breathe in additional ozone.
How Smoke Odor is Removed
When first turned on in an already smoke-filled room, the first effect is the removal of the sharp irritants that affect the eyes and the nose. If an  impregnated media filtering unit is already running when smoke starts, the smoke and the vapor is eliminated and an odor free condition can be obtained after smoking stops. This always depends on a variety of factors: sufficient carbon modules, strategic placement, appropriate matching filters, adequate maintenance and operating modules 24 hours a day.
The elimination of the less acrid tar and chemical odor, and the reduction of the visible mist of liquid tar require little time in most settings. The removal of the remaining odor, which comes from tar and chemical re-emissions from walls, carpets, draperies and furniture, may take several hours to many days, depending on smoking volumes.
Call 1-888-395-0330 / 1-800-626-0664 for help in choosing the right air filtration system, air purifier, air cleaner, air scrubber for your needs
we're your source for genuine Allerair & Electrocorp replacement filters and parts
cigarette, cigar, tobacco smoke odor removal, odor control , odor reduction